Grant Writing & Nonprofit Consultant
Training, Events, & Webinars!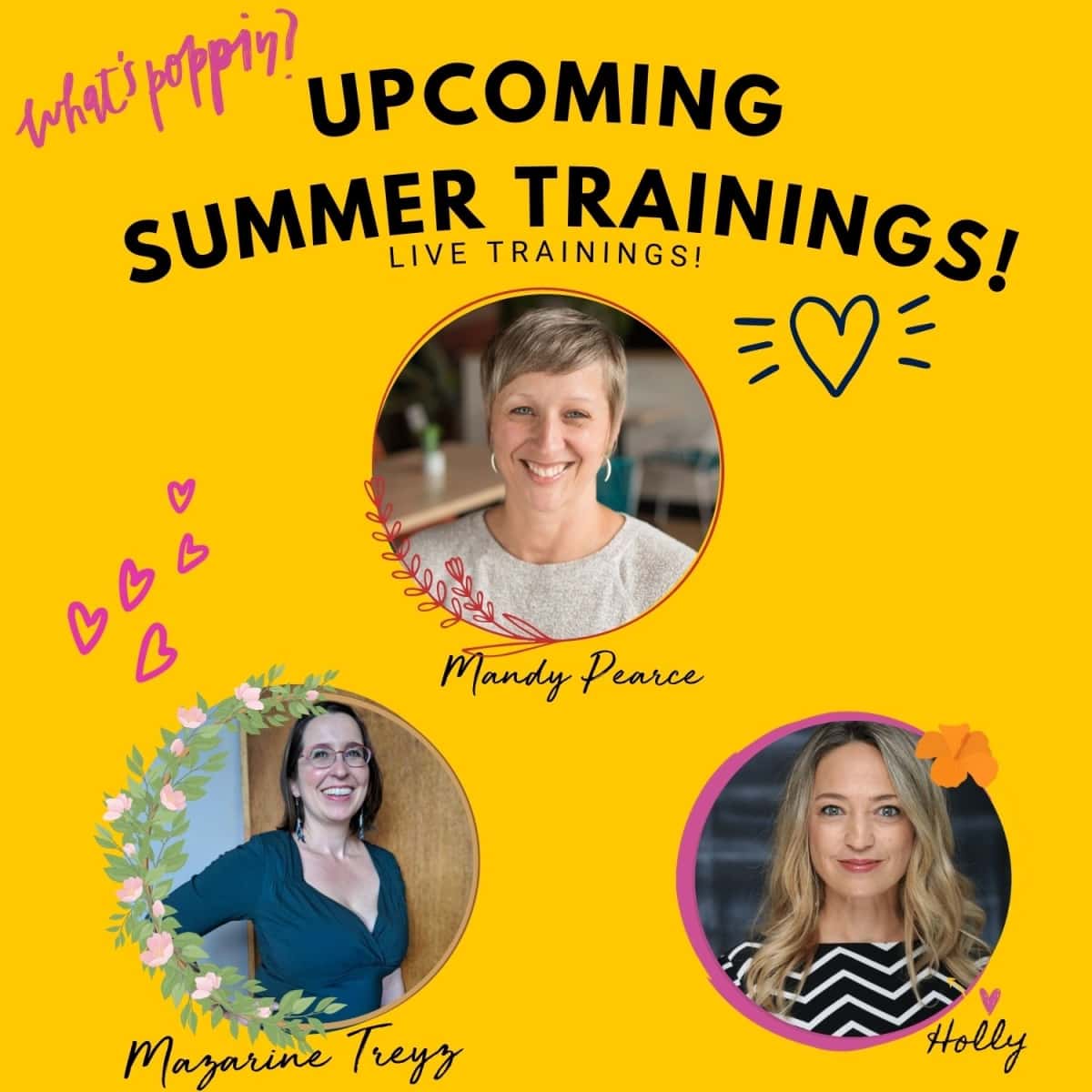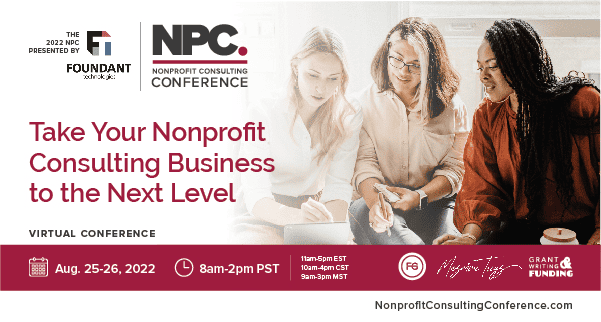 Nonprofit Consulting Conference
August 25th and 26th! 8 AM – 2 PM EST
Cost: Early Bird Prices! June $197, July $297, August $397
Join this 2-Day Virtual Conference to launch and grow your nonprofit consultancy business!
Creating Webinars That Sell Your Consulting Services
Wednesday June 29th, 1pm PT (4pm ET)!
Cost: Free!
Are you stuck at a certain level with your consulting income? Do you want a quick easy way to get more consulting clients? Mazarine will talk about how to level up your consulting with webinars. In this 45 minute webinar, we'll be sharing ways to get more clients safely without having to be in person.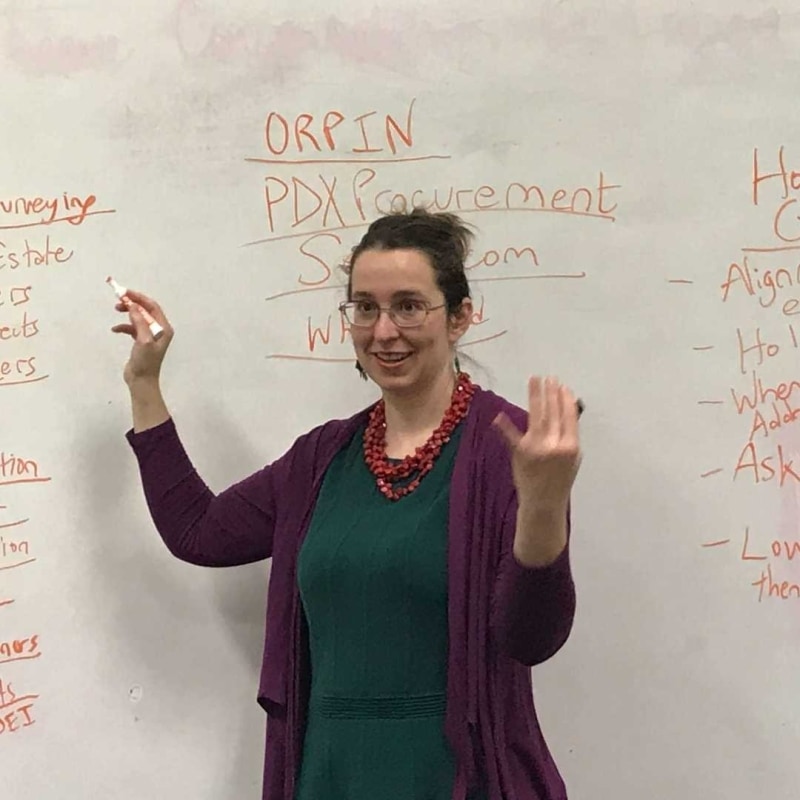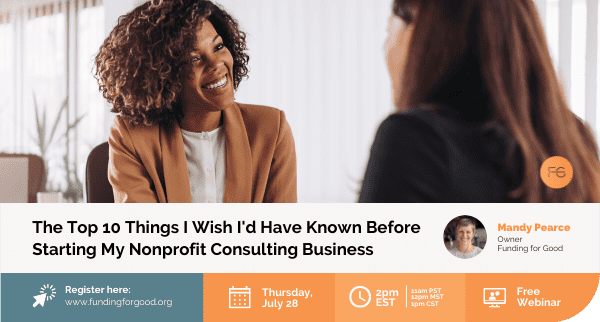 Creating Webinars That Sell Your Consulting Services
July 28, 2022 at 2PM EST!
Cost: Free!
Starting a consulting business can be overwhelming and a little scary. There are a lot of things to consider, a lot of unknowns, and a lot of resources to choose from to help you along the way. If you are thinking of starting a nonprofit consulting business or you have a side-hustle you want to take full time, join Mandy Pearce so you can learn from her and build success quickly!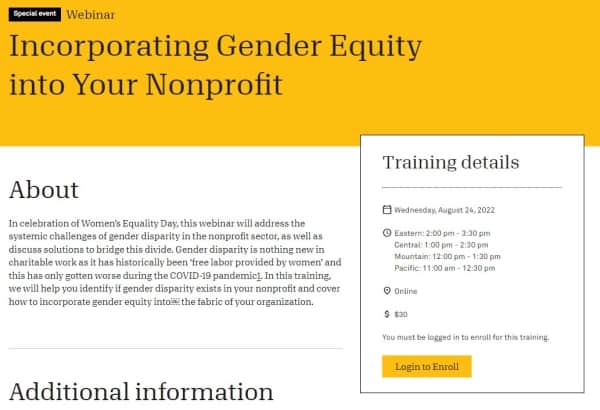 Incorporating Gender Equity into Your Nonprofit
Wednesday, August 24th 2 PM EST
Cost: $30
In celebration of Women's Equality Day, this webinar will address the systemic challenges of gender disparity in the nonprofit sector, as well as discuss solutions to bridge this divide. Gender disparity is nothing new in charitable work and this has only gotten worse during the COVID-19 pandemic. In this training, Holly will help you identify if gender disparity exists in your nonprofit and cover how to incorporate gender equity into the fabric of your organization.
Upon completion of this training, you should be able to:
Identify gender disparity gaps
Create a way forward for gender equity
Be aware of red flags of other disparity issues in your nonprofit (and have the tools to address them)
Nonprofit Consultants: 
Secure Nonprofit Clients During Discovery Calls
August 17th, 2022 at 6:30 PM EST!
Cost: Free!
Are you sick of doing a jillion discovery calls with hardly anyone signing on to your nonprofit consulting services? It can feel exhilarating to get that 15-minute call booked in the beginning! Until it's frustrating and feels like a time suck! That's why it's important to have an onboarding system already set up before you even do a discovery call.
In this webinar, Holly will teach you the following:
What questions you need to ask the nonprofit (Yes, flip this interview)
Script-answers-in-your-pocket to those pesky questions
SOP onboarding musts
This will help you stop wasting your time and get you qualified leads. You will also learn how to increase your conversion of calls to clients!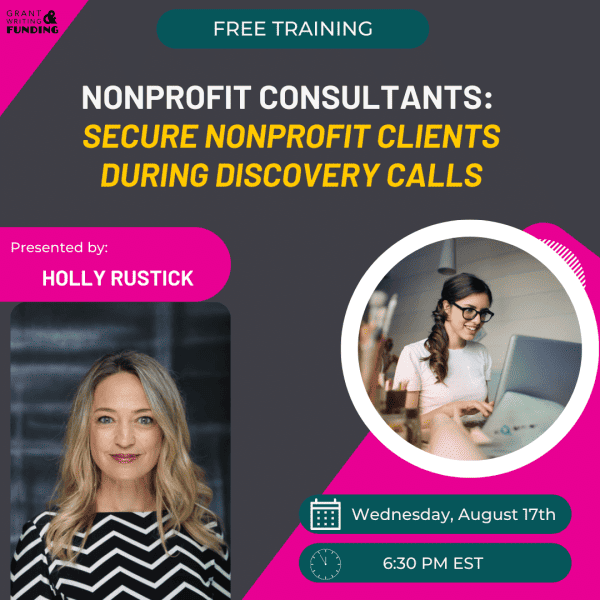 Download one of my free, powerful workbooks to achieve, advance, & accelerate your funding skills.
Get Started With
Grant Writing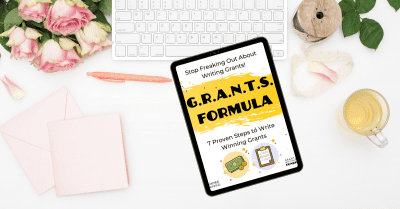 Your G.R.A.N.T.S. Formula Cheat Sheet
Get over the overwhelm of grant writing with this starter kit!
Get Started With
Grant Writing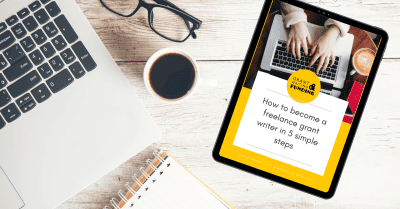 Checklist: Become a Freelance Grant Writer in 5 Simple Steps
Get the 5 action steps to get your grant business out of paralysis.
Get Started With
Nonprofit Funding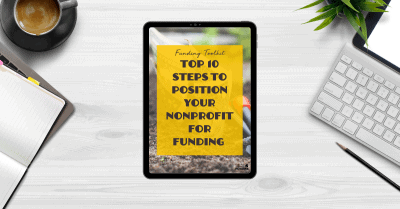 Top 10 Tips to Position Your Nonprofit for Funding
Get your nonprofit out of survival mode and into thriving!
Grant Writing Master Course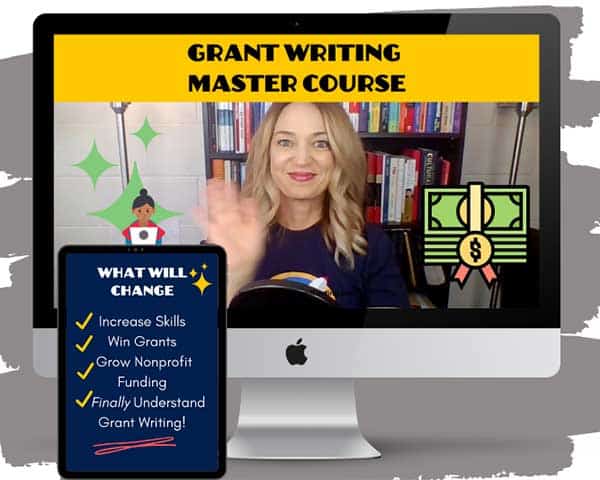 If you want to 10x your grant writing skill, then you're going to love this.
How would you like to get access to a grant writing course that has already helped hundreds of student secure millions of dollars for nonprofits?
Freelance Grant Writing Consultant Master Course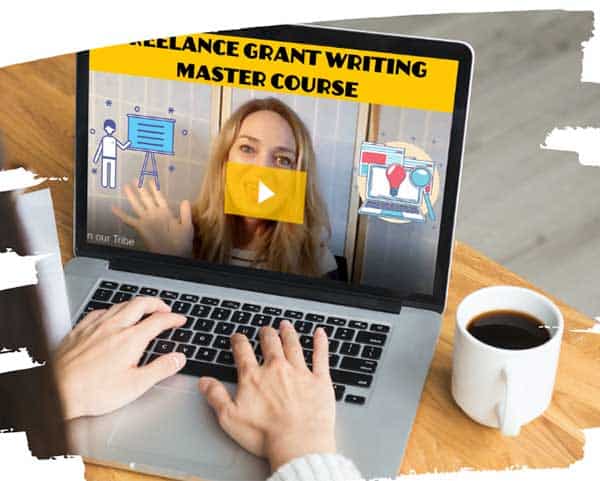 If you want to run your own business, then you're going to love this.
Consider this program an essential business success building block. In order to succeed in business you must learn the fundamentals of working with nonprofit clients.
8 step-by-step modules with 29 videos and 44 resources
Prices & Packages Templates
Marketing Plan to Make Money
And much, much more!
Nonprofit Stategive Planning Master Course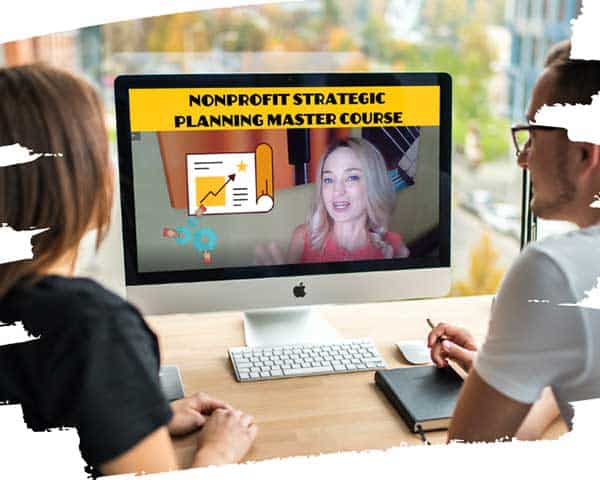 If you want to get diverse streams of income, then you're going to love this.
How would you like to get all the templates and roadmaps on multiple streams of income for a nonprofit – all in a year?
Sign up now to get asking for more tips.