Description
There's a time and place to figure it out on your own…
Or you could cut your learning curve by years and secure your FIRST ideal nonprofit client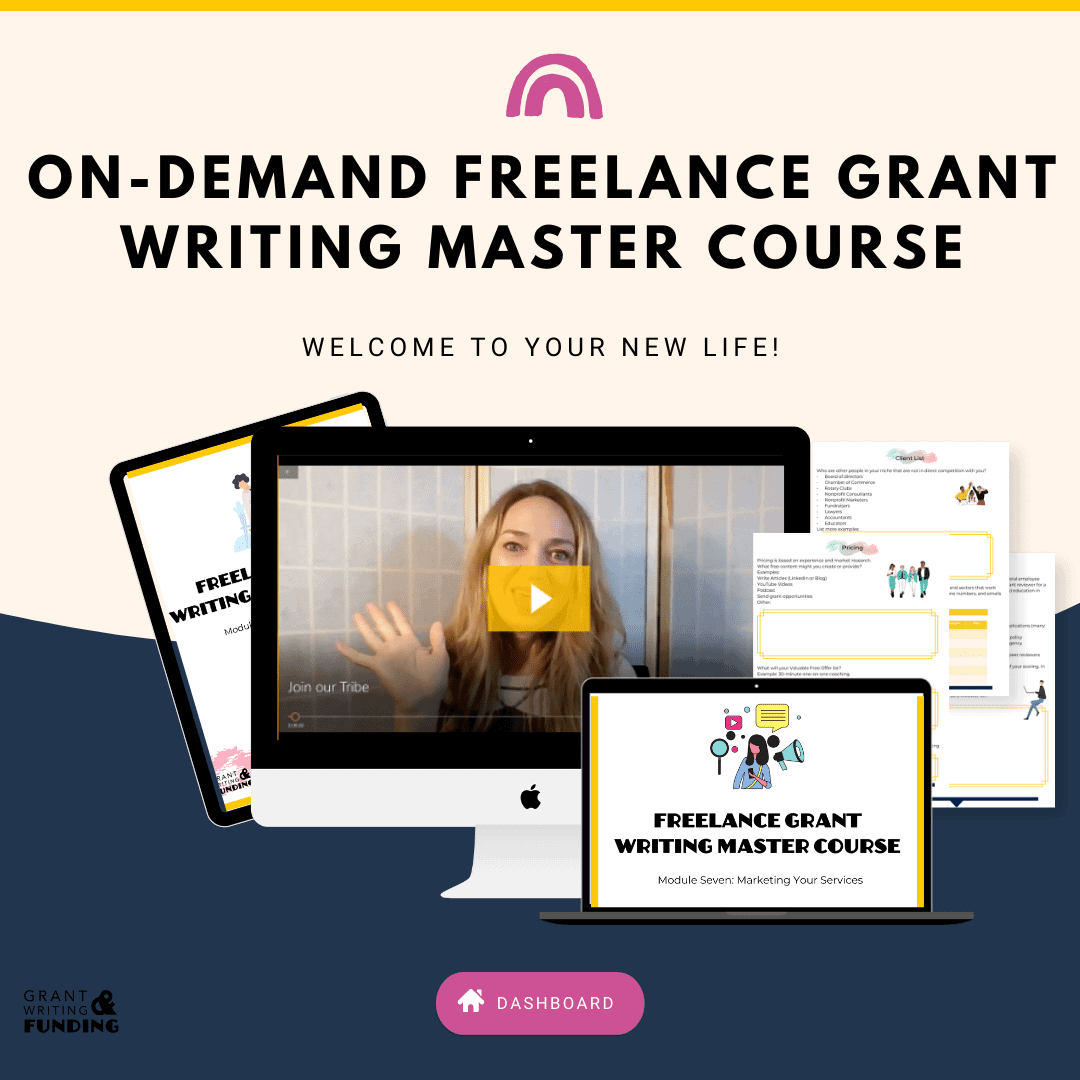 "Congratulations, Freelance Grant Writer!"
Causes are waiting for you right now.
This course is for you if…
You NEED a proven step-by-step system AND templates to launch & grow your business Sole prop or LLC? Business name to stand out in the noise. Yaaas, girl.

You want to feel confident in securing clients. How much should you charge? What should you include in your proposals?

You want to build systems so you don't burn out running a business. As a freelancer, you might do it all, but I'll show you systems to automate and ways to collaborate. Magic Sauce!

You need accountability and a community of like-minded changemakers. Access to a private FB group and monthly Q&A? That's what I need!
If you don't figure this out, your dream will never be fulfilled and you will remain in mediocrity.
1: Where would you even find nonprofit clients?
2: Not sure if freelance grant writers can make a living. (They work with nonprofits, come on…)
Believe me, I've been there.
A lot of people will suffer because you aren't there to help. And I don't mean helping by handing out food at Thanksgiving. Sure, there is a time and place for that, but you know you can do so much more. 
Deep down you really know that there is something much more that you can do.
And let's be real, you just aren't the standing in line kind of person. You do better behind the scenes where you can work at your own pace or need to work at your own pace (i.e. baby on your hip or maybe you've recently had a hip replacement!).
Your vision is big.
If you could just tap into that talent and passion you have for writing, then, wow! Just maybe your help could employ jobs for people, get domestic violence shelters funded, build schools, fund research projects that find a cure for a life-threatening disease and basically help make the world a better place.
And, maybe, just maybe, you can also get paid well while doing this.
Without you taking the next step, all of these programs, dreams, and needs will not be fulfilled…that school, hospital, or community center will not be built. The ability to work on your laptop while sipping tea at home just isn't going to happen.
But the problem is you really are not confident in knowing how to start a business.
Taking this course means YOU can!
Identify nonprofit clients that you are excited about and have a script when doing Discovery Calls!

Work from anywhere in the world while helping nonprofits create a positive impact in their communities through securing funding.

Get your business set up so it is legit!

Feel and BE confident when talking to nonprofits, and develop your pricing strategy.

Make a positive and TREMENDOUS impact in the world.